Ideas For Photo Golf Ball Uses, Where To Order Online
Photo golf balls are a unique favor or giveaway to use for events, such as reunions, anniversaries, birth announcements, graduations, weddings and more. Instead of a photo, some people choose to have words printed on. For example, a baby's name for a birth announcement or the names of the bride and groom, with wedding date, for wedding favors or groom gifts.
What kind of pictures do people use on golf balls? This is limited only by the imagination but some of the favorites are pets, family photos, pictures of couples for anniversary or wedding celebrations, the guest of honor for events such as birthdays or graduations, the new house for housewarming or other new house type parties.
Companies have a product photo, company building picture or their logo printed on the golf balls as a promotional item.
When getting ready to order photo golf balls, you are given the ability to choose the brand name of golf ball that you want the photo, logo or text to be printed on.
Why buy from GolfBalls.com?

1 dozen minimum
Many brand names to choose from
No setup charge
Fast turnaround
Golfballs.com is the # 1 supplier of custom logo golf balls!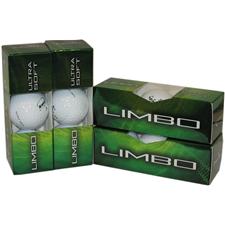 This is just one example of the name brands available. These are Limbo Ultra Soft Golf Balls
The Intech Limbo Ultra Soft is a good low compression golf ball for those golfers looking for a soft feel on the green. The Intech Limbo is a cheap golf ball that plays as well as many other 2 piece name brand golf balls.
The Limbo is designed to offer best performance for golfers with a low to average swing speed. Intech is a popular brand name for customers looking for performance golf balls at discount golf ball prices.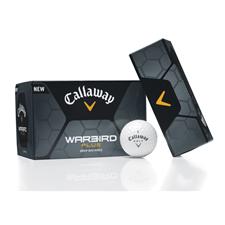 Another example are the Warbird Plus Golf Balls
Callaway Warbird Plus Golf Balls features HEX Aerodynamics for the first time ever on a Warbird golf ball.
Warbird Plus Golf Balls also feature a new high-powered core, making this the longest Warbird ever made by Callaway. This 2-piece construction golf ball consists of a high-resiliency core for maximum distance and soft feel, and a durable Ionomer cover that provides long lasting playability and increases driver distance.
There are many more brand names available to choose from at GolfBalls.com
---
One More Brand Name Example, Made Especially For The Ladies ...